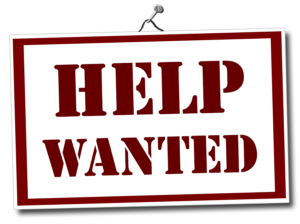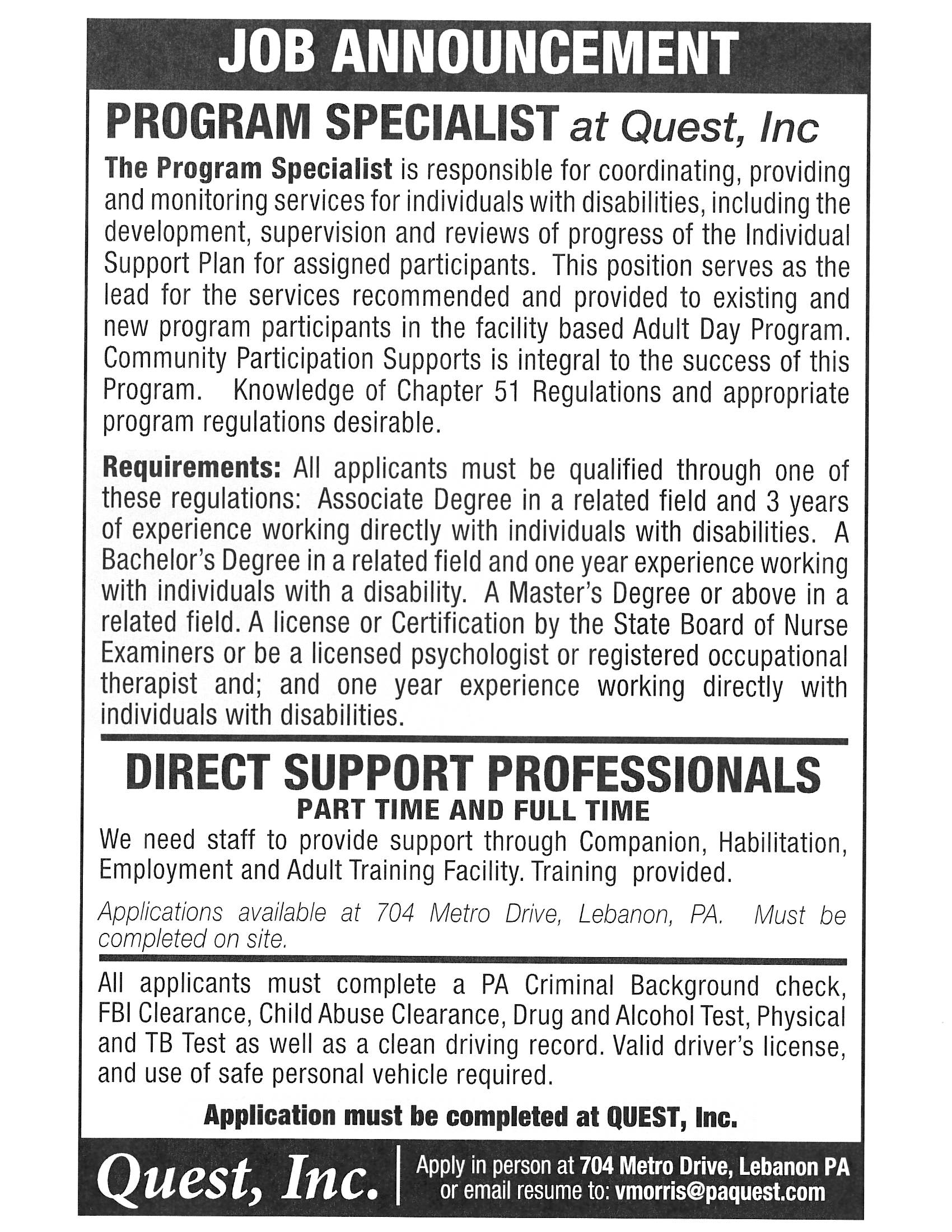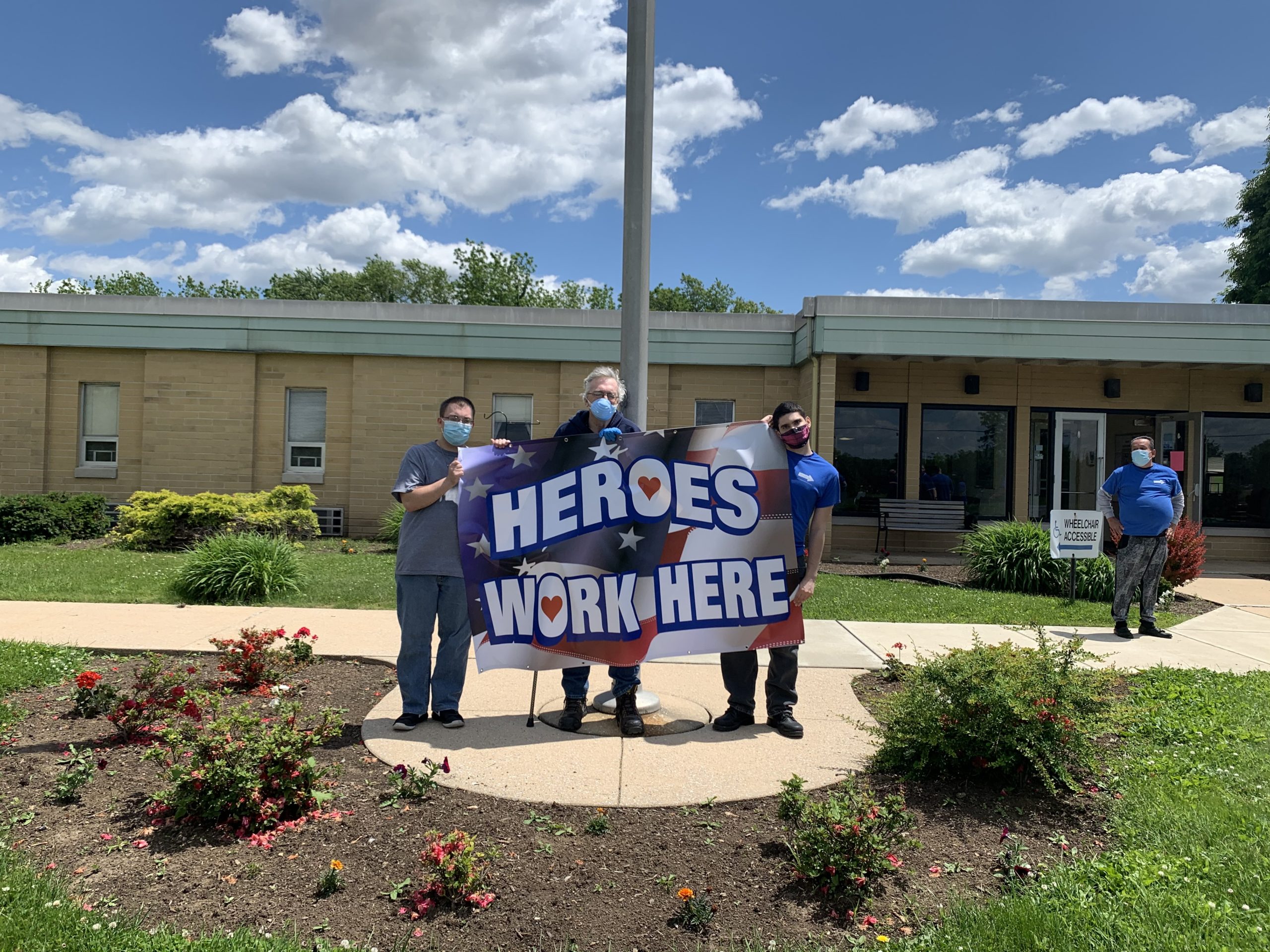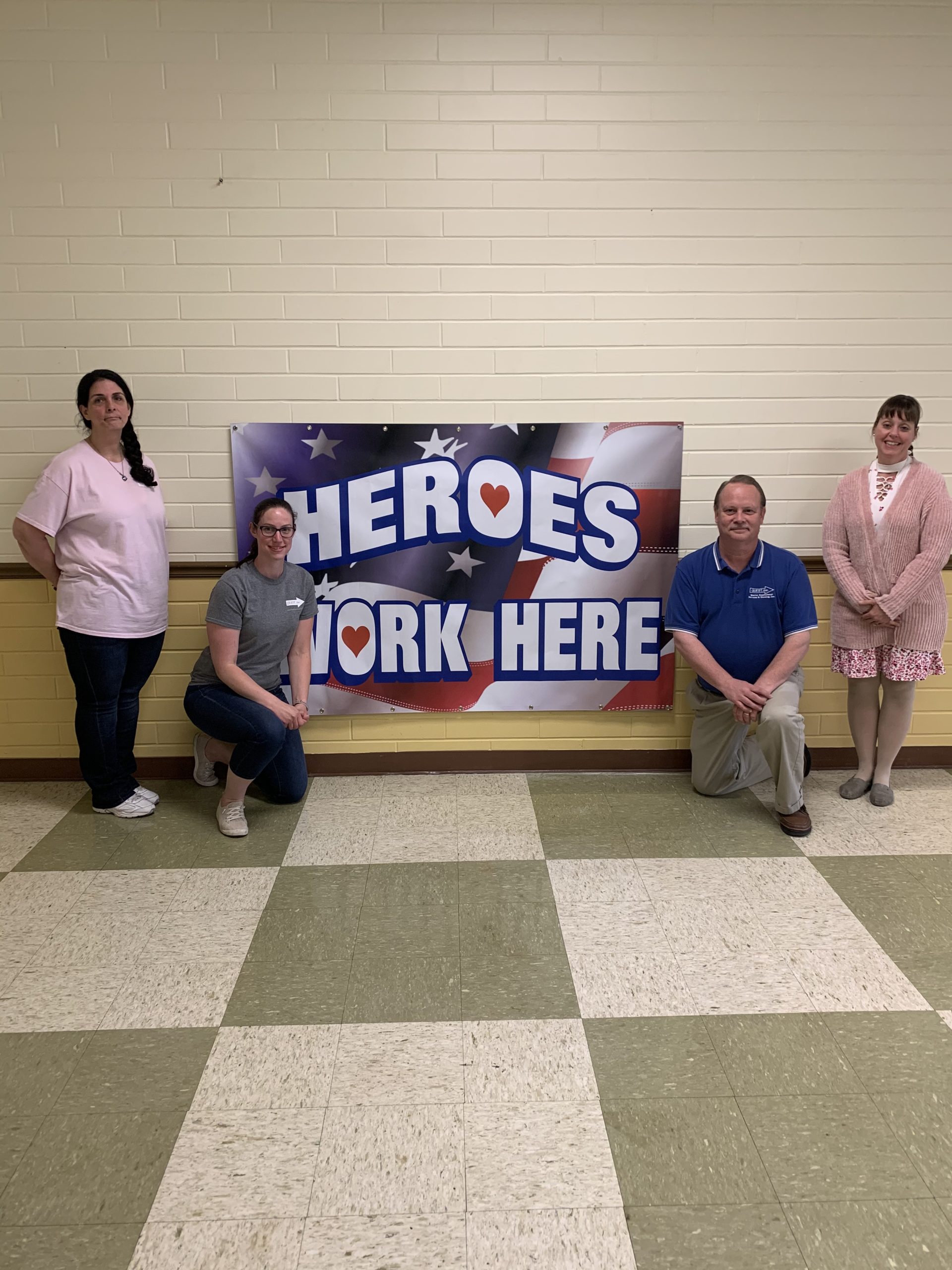 "QUEST Inc. is dedicated to providing vocational and life skills, which empower people with disabilities and other vocational disadvantages to achieve a quality of life of their individual choosing."
QUEST, Inc. has its roots in the movements of the 1950's. It was a time in which facilities and programs flourished in communities in an effort to respond to populations of people that were deprived of educational, vocational, social and community opportunities because they did not fit the existing systems. Initially the agent was incorporated under the name of the Lebanon County Workshop, Inc. As time passed and thinking and findings in the field of vocational rehabilitation changed, the agency changed, as well . In the process of these changes the focus moved from that of a " sheltered workshop" to that of a comprehensive vocational rehabilitation agency. In 1995 our name was changed to QUality Employment Services and Training, Inc. or QUEST, Inc., which was in keeping with the emerging programs and services being offered by the agency.
Today, QUEST offers options for people with disabilities that include specialized occupational training, extended work in the industrial training facility, job placement, employment services, and expanded community integration opportunities. With over fifty years of providing Community Benefit, vocational rehabilitation training and work experiences, and employment opportunities for people with disabilities, QUEST, has become a major provider of vocational programs and services for the residents of Lebanon County and surrounding areas. QUEST Inc., is a licensed vocational rehabilitation agency licensed by the Department of Public Welfare 2390 Regulations for Vocational Facilities and 2380 Regulations for Adult Training Facilities. As a Community Benefit agency, QUEST Inc., is a member agency of the United Way of Lebanon County, Lebanon Chamber of Commerce and the Community of Lebanon Association.HERSHEY ENTERTAINMENT & RESORTS HONORED ASCOMMUNITY EMPLOYER OF THE YEARCompany Honored for Embracing Employees with Intellectual Disability by PAR (Pennsylvania Advocacy and Resources for Autism and Intellectual Disability) Harrisburg, PA (October 21, 2019) – Hershey Entertainment & Resorts is being honored with the Central Region Community Employer of the Year award by PAR, the Commonwealth of Pennsylvania's leading disability provider and advocacy association for people with autism and intellectual disability, in recognition of its efforts to hire and provide outstanding support to employees with disabilities. Hershey Entertainment & Resorts will receive its award at the PAR Annual Solutions Conference "We Are Worth It." Awards Ceremony on October 21 in Harrisburg. One of the largest employers in Central Pennsylvania, Hersheypark is the centerpiece of Hershey Entertainment & Resorts. Hersheypark has an established record of hiring individuals with disabilities and making accommodations that promote each employee as a valued and contributing member of their diverse workforce. Job coaches and employment support staff are always welcome throughout the hiring process, and accommodations are offered during the online application and in-person interviews to ensure each applicant is given full and equal opportunity to become part of the Hershey team. Each department has been very accommodating with schedules to maximize each person's transportation situation, skill sets, stamina and abilities. Throughout the Park, individuals with disabilities can be seen integrated in the working environment. Supervisors and schedulers work with the employment staff from various provider agencies to maximize the chance for individuals with disabilities to succeed at their job and be valuable contributors at Hersheypark. "Including people with disabilities in a company's workforce makes good business sense, and Hersheypark is a perfect example of this," says Mark Davis, PAR President and CEO. "We are thankful for Hersheypark's fantastic efforts in hiring people with intellectual disability or autism and providing them with the support they need to thrive and contribute." RYAN SPOTTS TO BE PRESENTED SELF ADVOCATEEMPLOYEE OF THE YEAR AWARD Self Advocate and Excellent Employee Honored by PAR (Pennsylvania Advocacy and Resources for Autism and Intellectual Disability) Harrisburg, PA (October 21, 2019)-Ryan Spotts, a self advocate supported by QUEST, Inc., has been selected as the Self Advocate Employee of the Year for Pennsylvania's Northeast Region by PAR, the Commonwealth of Pennsylvania's leading disability provider and advocacy association for people with autism and intellectual disability. Spotts will receive his award at the PAR Annual Solutions Conference "We Are Worth It." Awards Ceremony on October 21 in Harrisburg. Ryan started working at the Jonestown location of Ingram Micro in August 2017. Ryan initially started out as a warehouse associate supervising the conveyor belts that route packages, but when technology upgrades phased out the position, Ryan quickly acclimated to learning new tasks. Today, Ryan serves as a lead box maker and works in conjunction with numerous area supervisors to ensure the facility has the proper supplies and materials needed to keep production and shipping running smoothly. Ryan independently sets up the box making machines, gathers needed supplies and materials and consistently meets production quotas and transfers finished products to various departments. Ryan has a good working relationship with his supervisors and effectively communicates daily departmental activities, often working alongside new employees and assists with training and mentoring new workers. Ryan's success in this position has opened the door for other individuals with disabilities to obtain employment at Ingram Micro earning well above minimum wage. More than a dozen individuals with disabilities have now been given the opportunity to work at Ingram Micro, and Ryan's initial success played a key role for others to obtain these opportunities. "Ryan is truly a role model at work and in his community, and I'm so proud of what he's accomplished," said Mark Davis, President and CEO of PAR. "He is a great example of many other Pennsylvanians with intellectual disability or autism contributing in their communities." When Ryan is not working, he is an active member of his community. He is a volunteer firefighter at the Rescue Hose Company #4 in Lebanon, shows his skills with Special Olympics basketball and serves as an assistant coach for the Lebanon High boys' varsity basketball team.
As we embark on a new fiscal year amidst unprecedented challenging times I'd like to reflect upon the successes of our community based programs in the past 12 months. The employment division continues to grow and expand with an increasing number of clients obtaining gainful employment and maintaining and advancing on their jobs with support from our ACRE certified employment specialists. Though typically referred to simply as "job coaches", that term does not do justice to the impact they have on helping individuals achieve and maintain their vocational goals which enhances their quality of life and gives them a sense of purpose, dignity and inclusion. A number of our clients and business partners received recognition on a local and regional level for their accomplishments. This included one client being recognized by PAR as the self-advocate of the year, multiple business partners being recognized as Employer of the Year, three clients receiving milestone awards for tenure with employers, one client honored as Employee of the Year and numerous individuals being recognized as Employment Champions for their "above and beyond" commitment to helping clients succeed. This included professional staff, business partners and family members, emphasizing a team approach to helping people achieve. It is in this spirit that QUEST has formed a collaborative with DDS, utilizing grant funding from the United Way to help even more people find competitive employment. This partnership expands services and funding beyond traditional systemic staffing models and funding streams with the ambitious but reachable goal of improving the services model as we work toward dignity, inclusion and equality for all.
Our habilitation and companion services program also saw an expansion of services with the number of clients receiving in home and community supports. Services ranged from helping clients as they became first time mothers, assisting clients with finding better living arrangements, parenting skills, budgeting, resource management, health and wellness and community integration. Like our employment staff, services were provided even during the restricted phases of the pandemic to ensure the safety and well- being of our clients. This serves as a testimony to the commitment and dedication our frontline staff have toward our clientele. Their contributions cannot be overstated.
As we continue to move forward with providing services in an ever changing world, the core of who we are and what we do will continue to be the relationships we have with our clients; treating them as equals, valuing diversity and acting as a bridge to connect them this world, their world, our world.Employment 1st
Take Charge of Your Life- CHOOSE WORK
Everyone can work and there is a real job for everyone. A real job is one with real wages, benefits, side-by-side and with co-workers without disabilities.
Not working should be the exception. All individuals, schools, families and businesses must raise their expectations.
People will be hired because of their ability not because they have a disability.
Communities embrace people who contribute.
Everyone has something to contribute and needs to contribute. Having a real job and real wages helps people have a lifestyle with value, choice and empowerment.
Real jobs should be the first priority and preferred outcome for people with disabilities. We will be creative and tenacious in providing support.
Employment is a win/win for everybody!

Meet Our Staff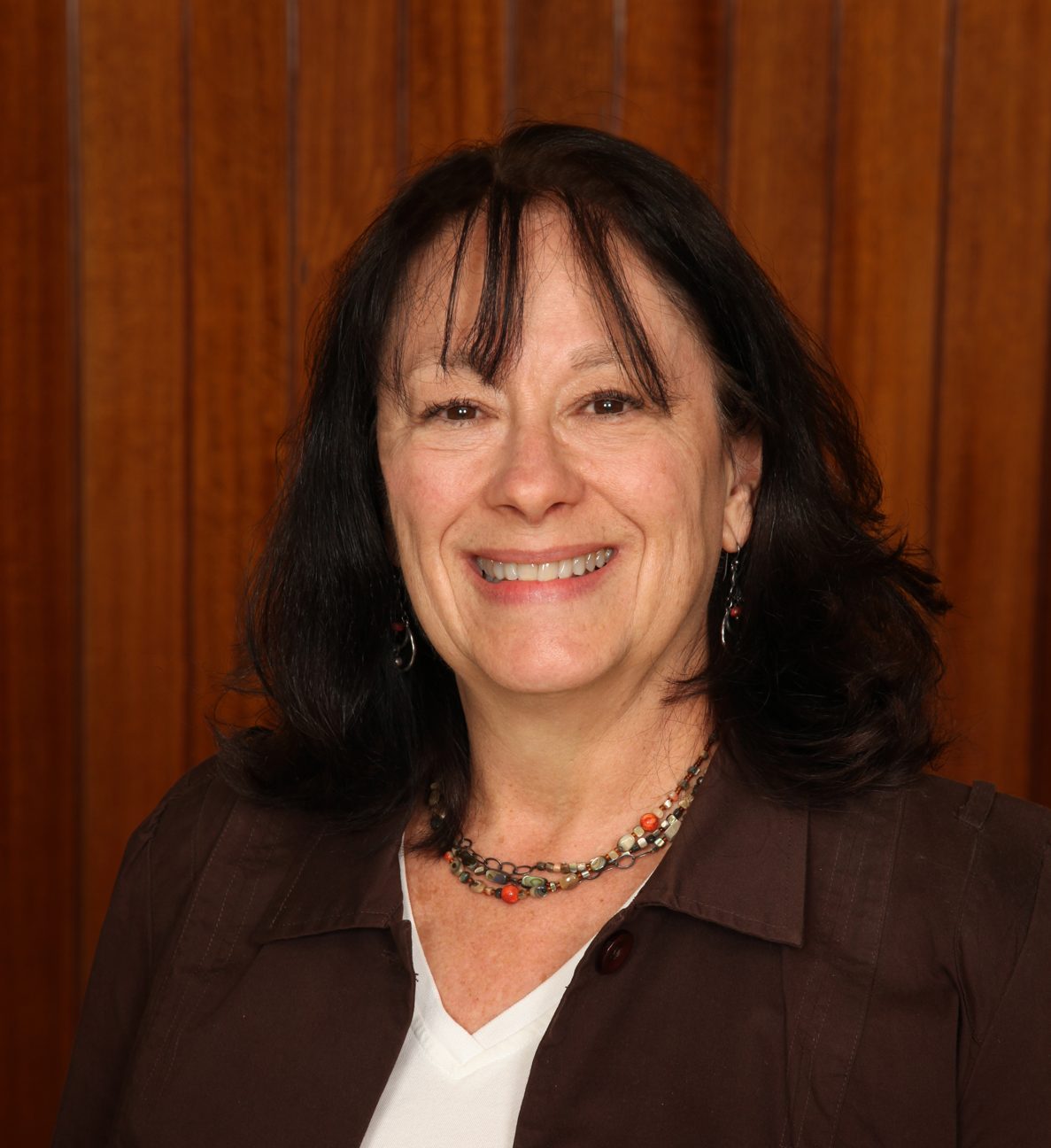 Verna Morris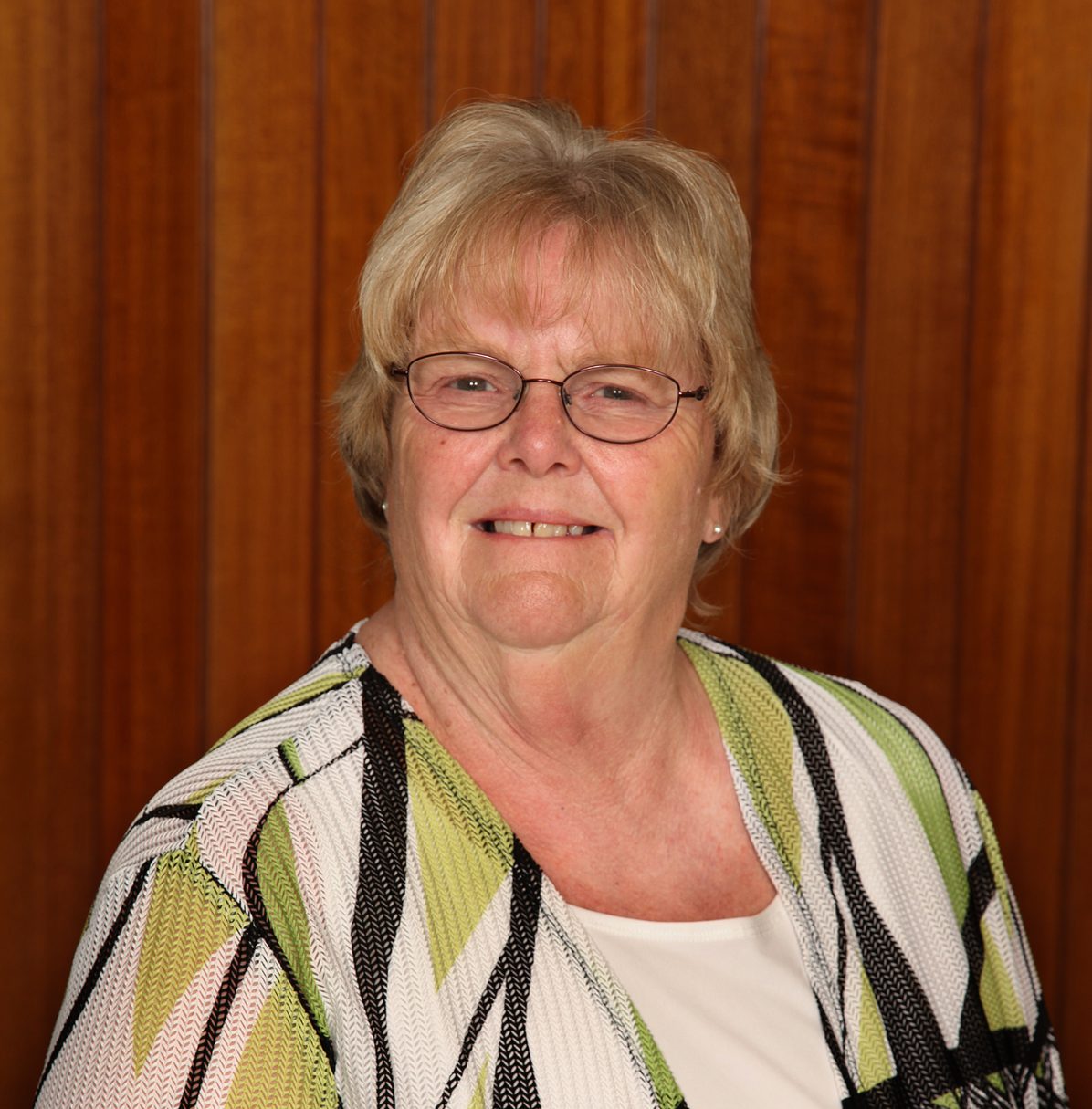 Hollie Manwiller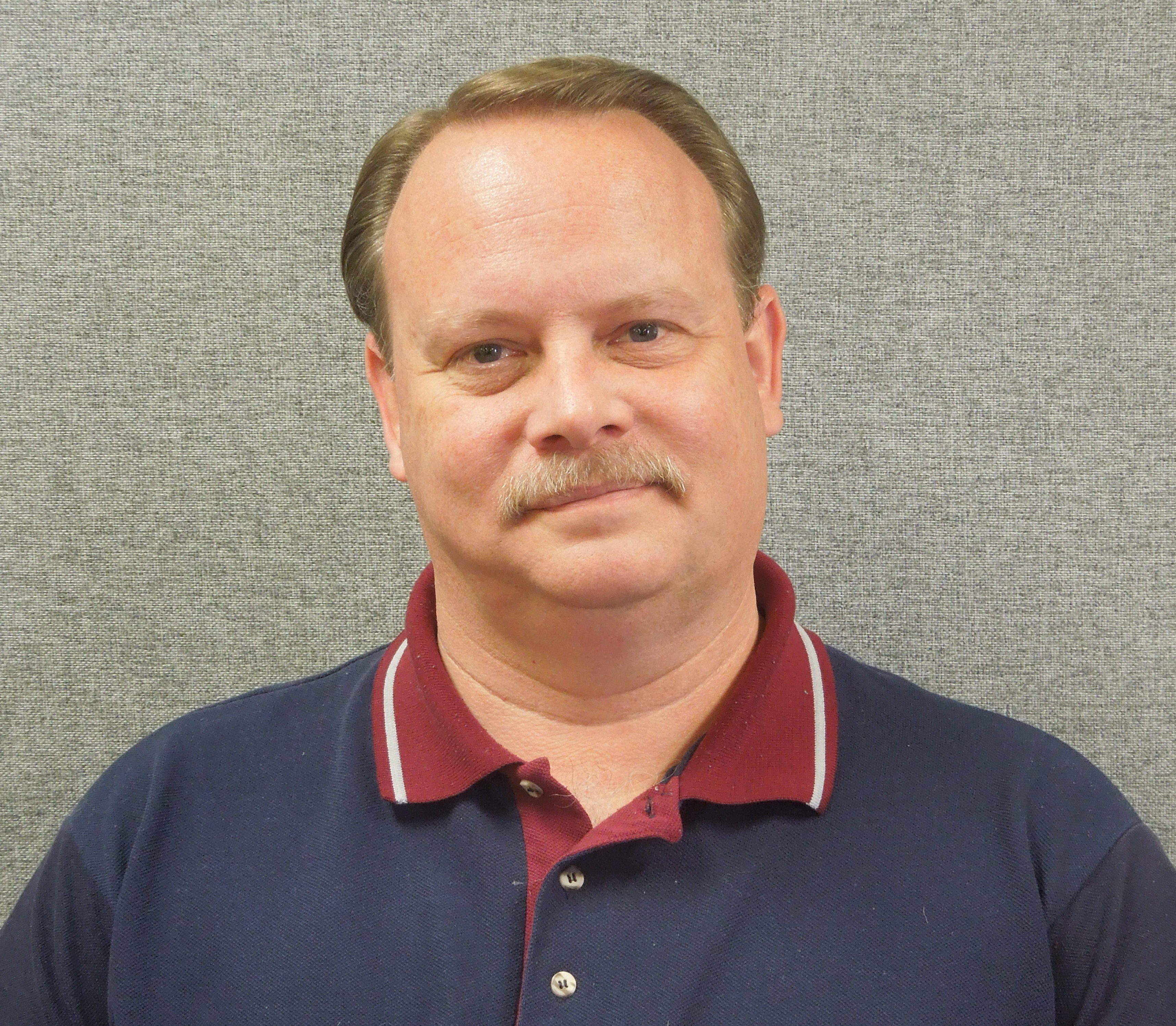 Mike Barnhart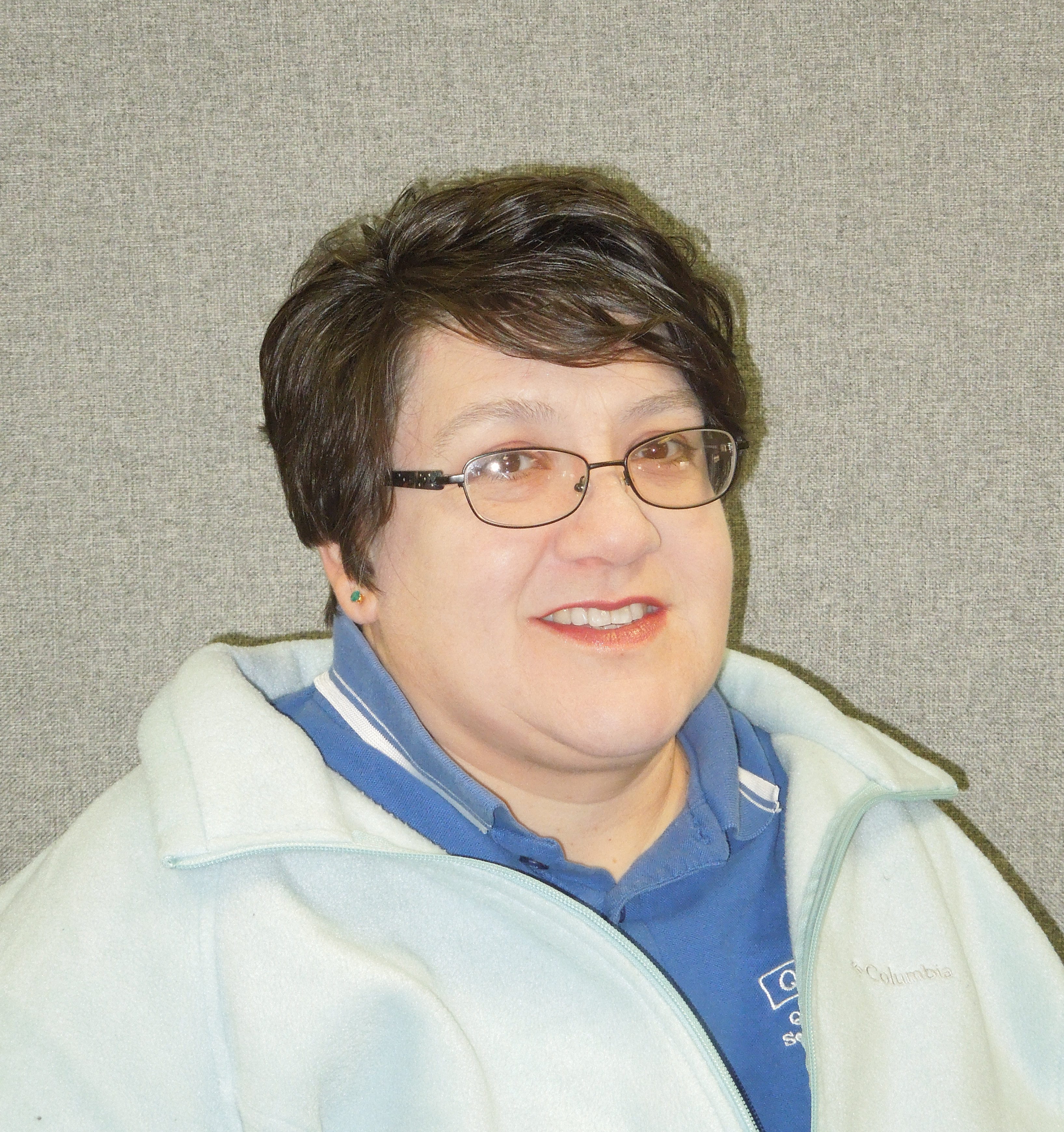 Elizabeth Hershey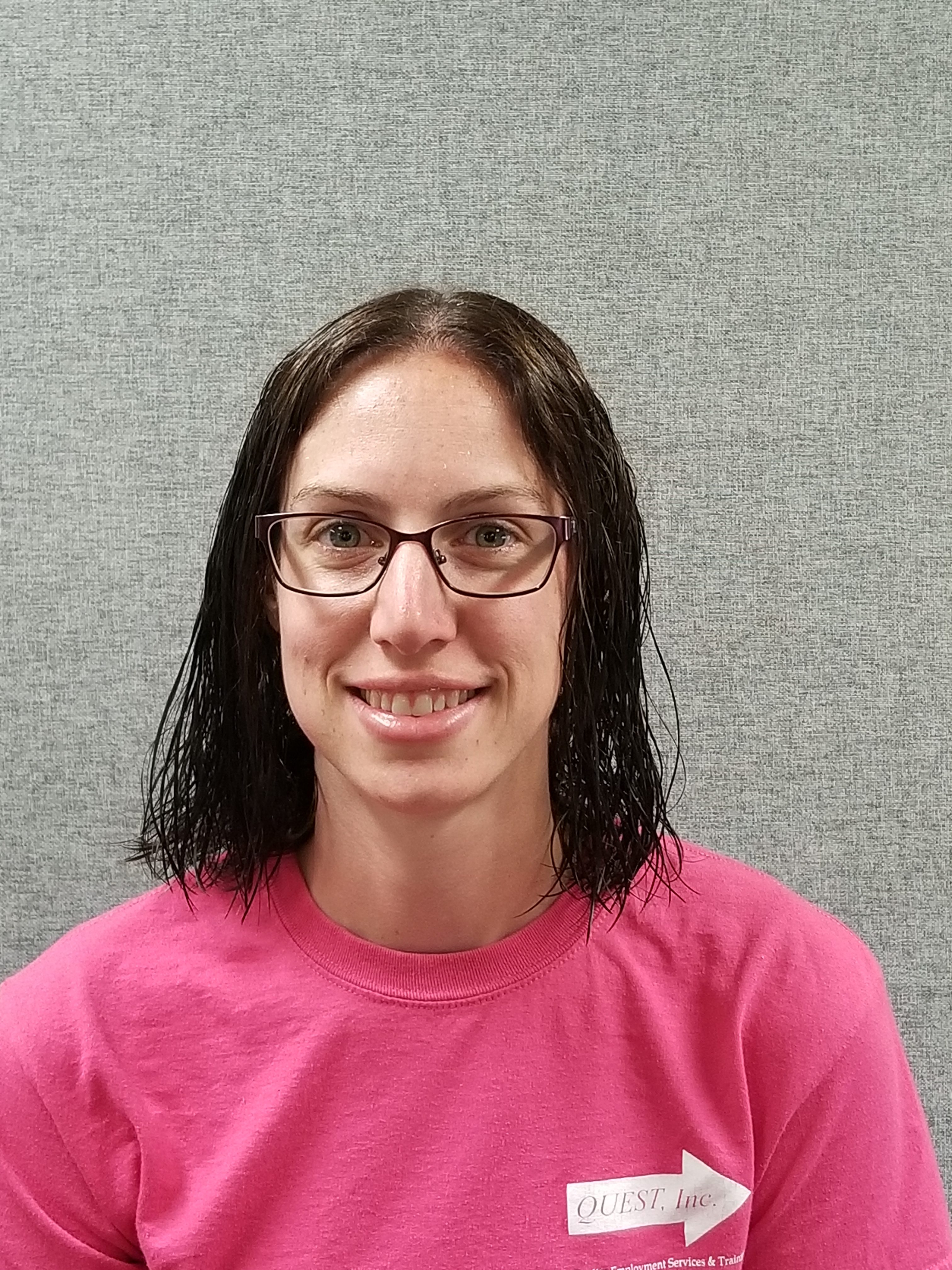 Emily Jones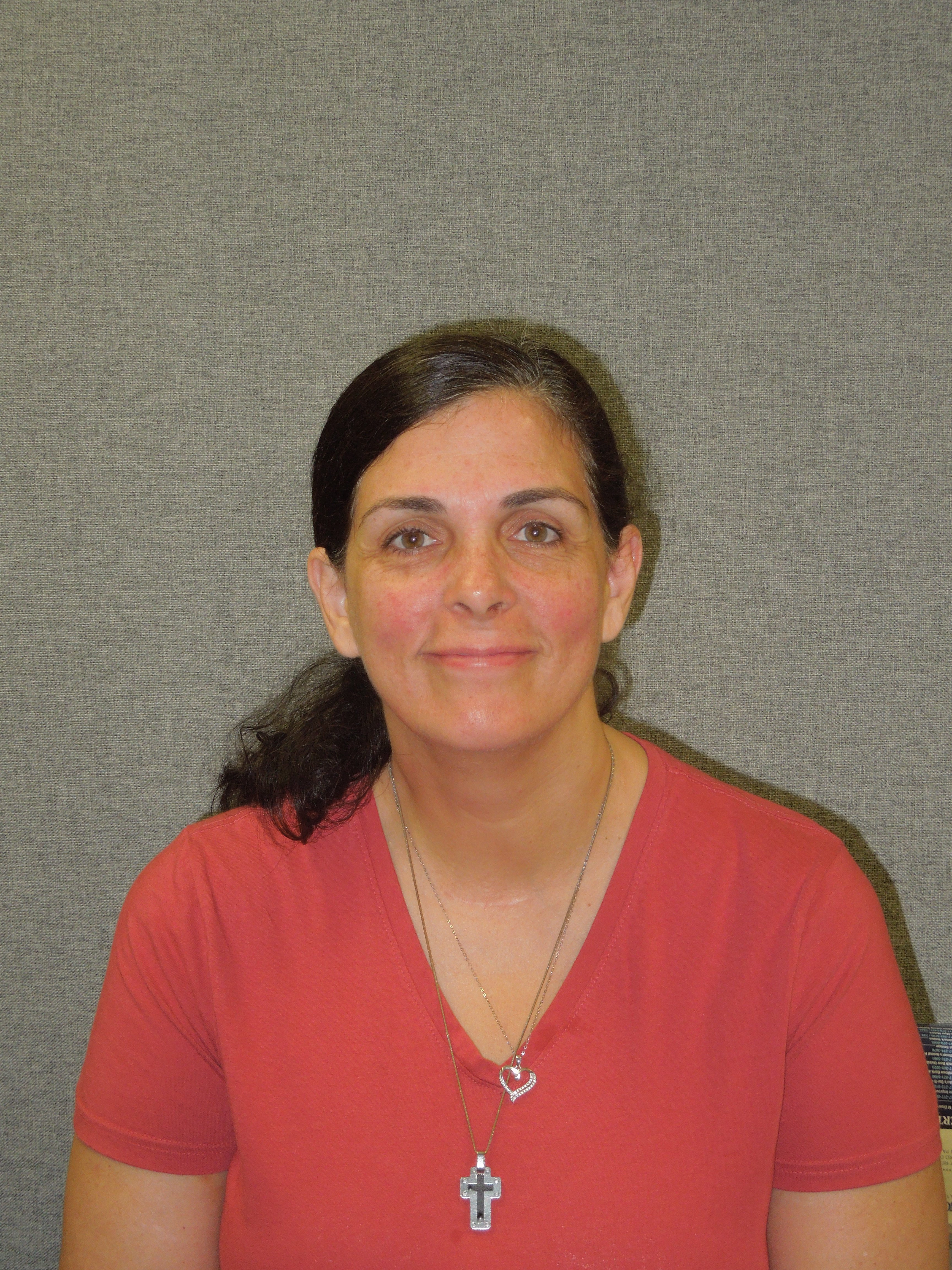 Jennifer Davis-Brandt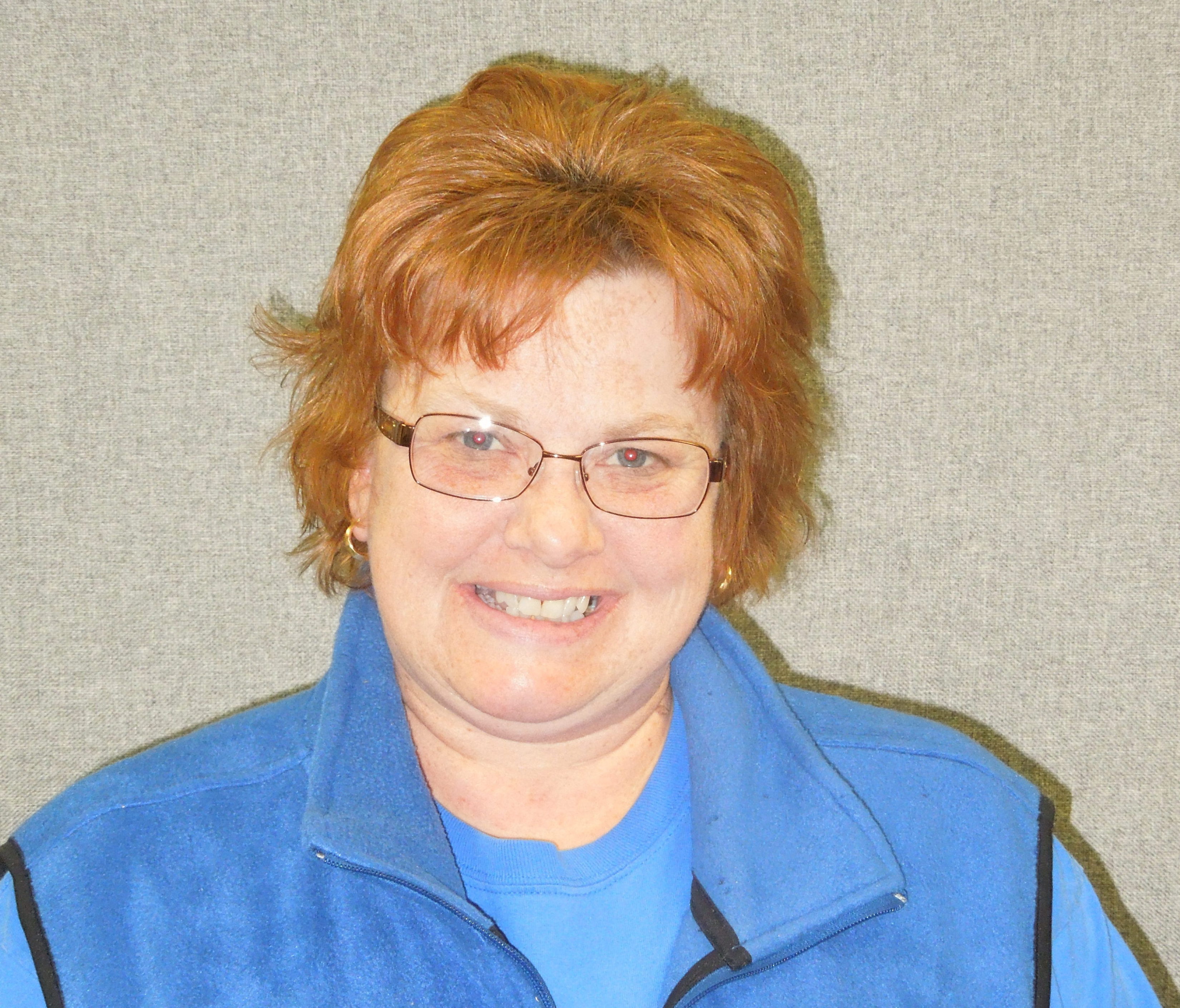 Marsha VanOverbeke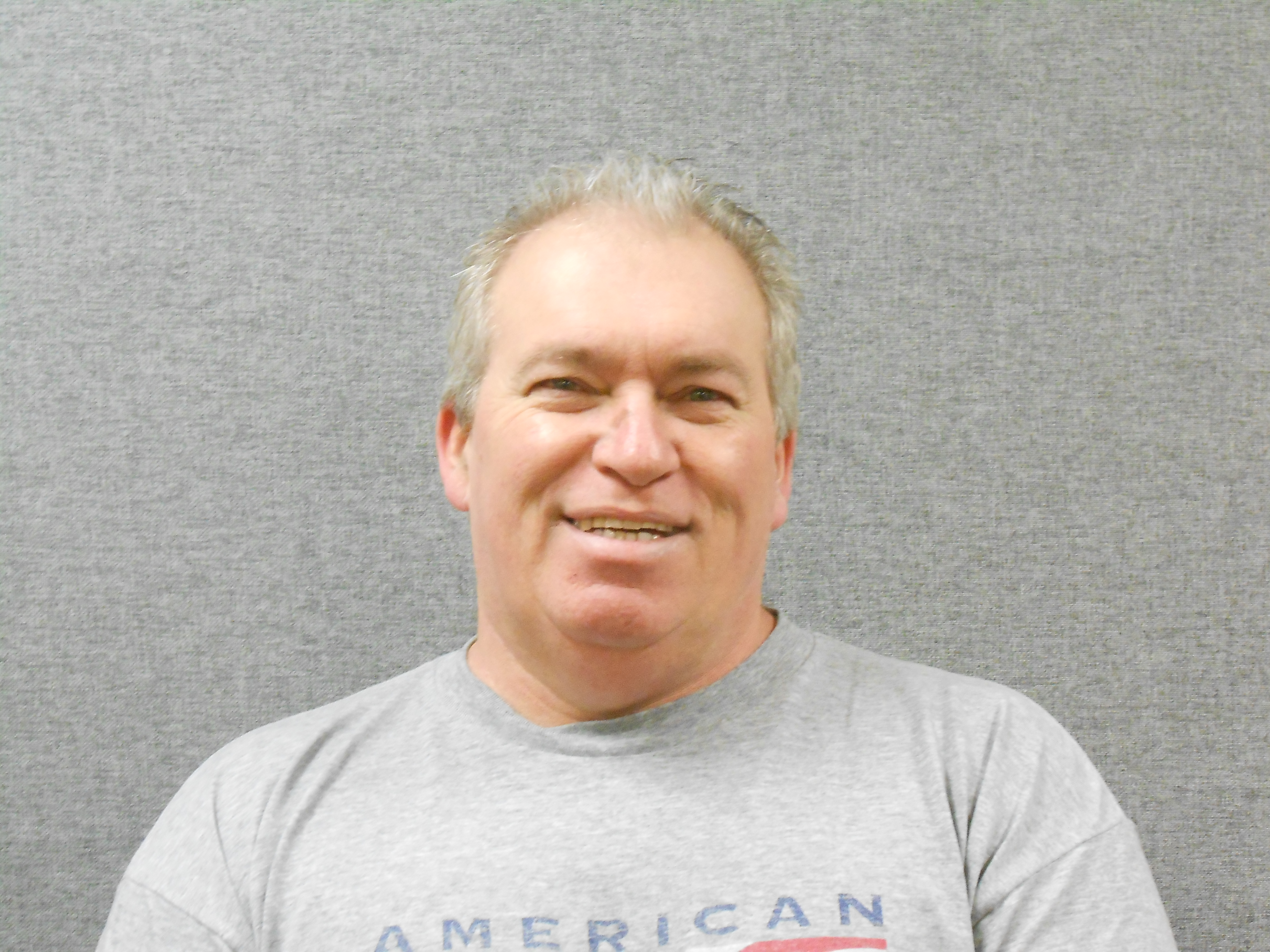 Harry Hurd
Lawn Care Supervisor