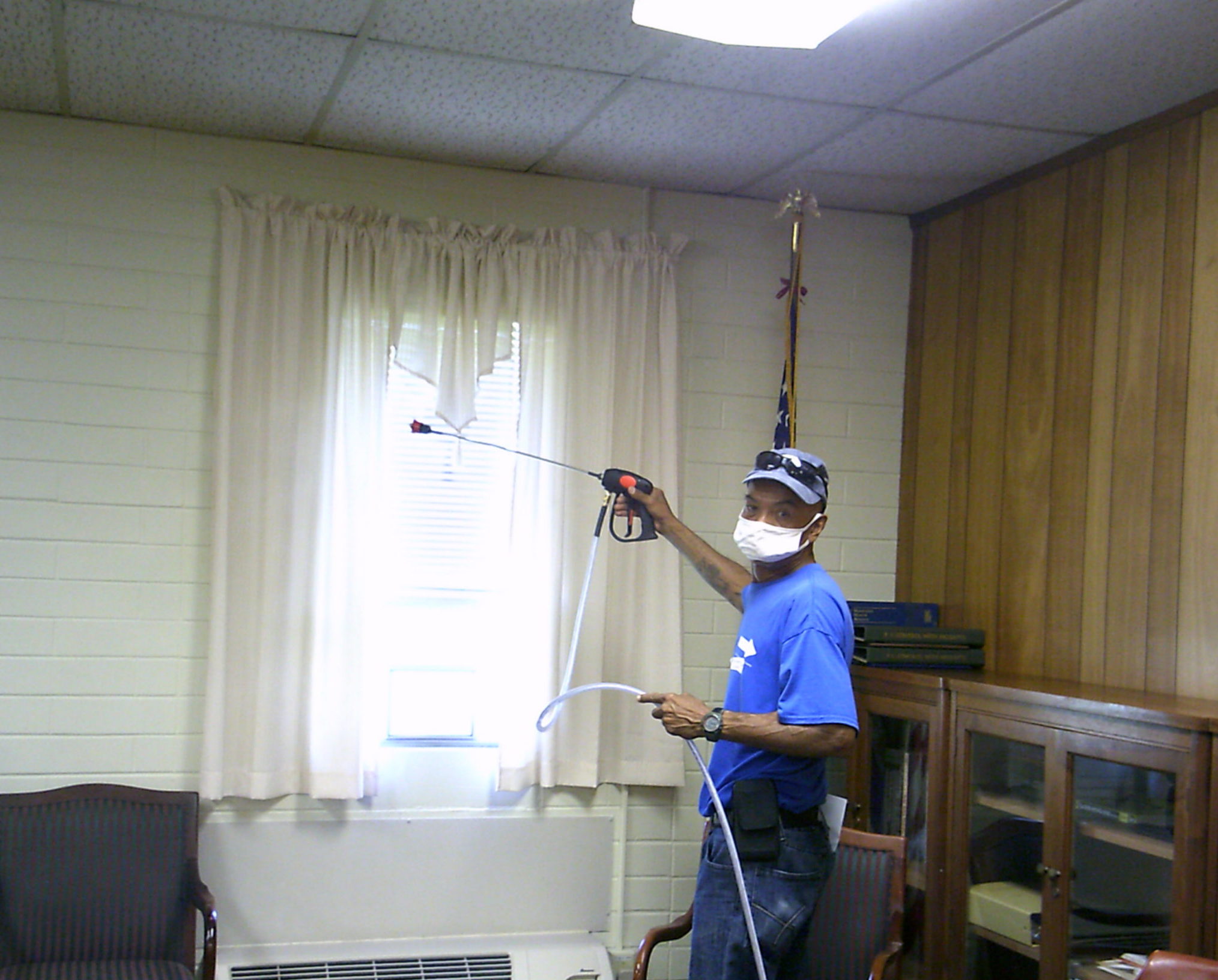 HELP WITH FIGHTING AGAINST
THE COVID -19 VIRUS!!! 
QUEST Inc. is proud to announce the launch of our Disinfecting Misting System available to all businesses, hospitals, assisted care facilities, processing facilities, schools and public facilities!!  Protect your workplace with the ultra-fine mist disinfectants and sanitizers. The products are COVID-19 virus effective.  Our trained staff will provide one application or scheduled weekly or monthly services as requested. Please call our office at 717-273-8118 and ask for Hollie Manwiller to request further information and schedule an onsite tour to obtain a price quote for your service.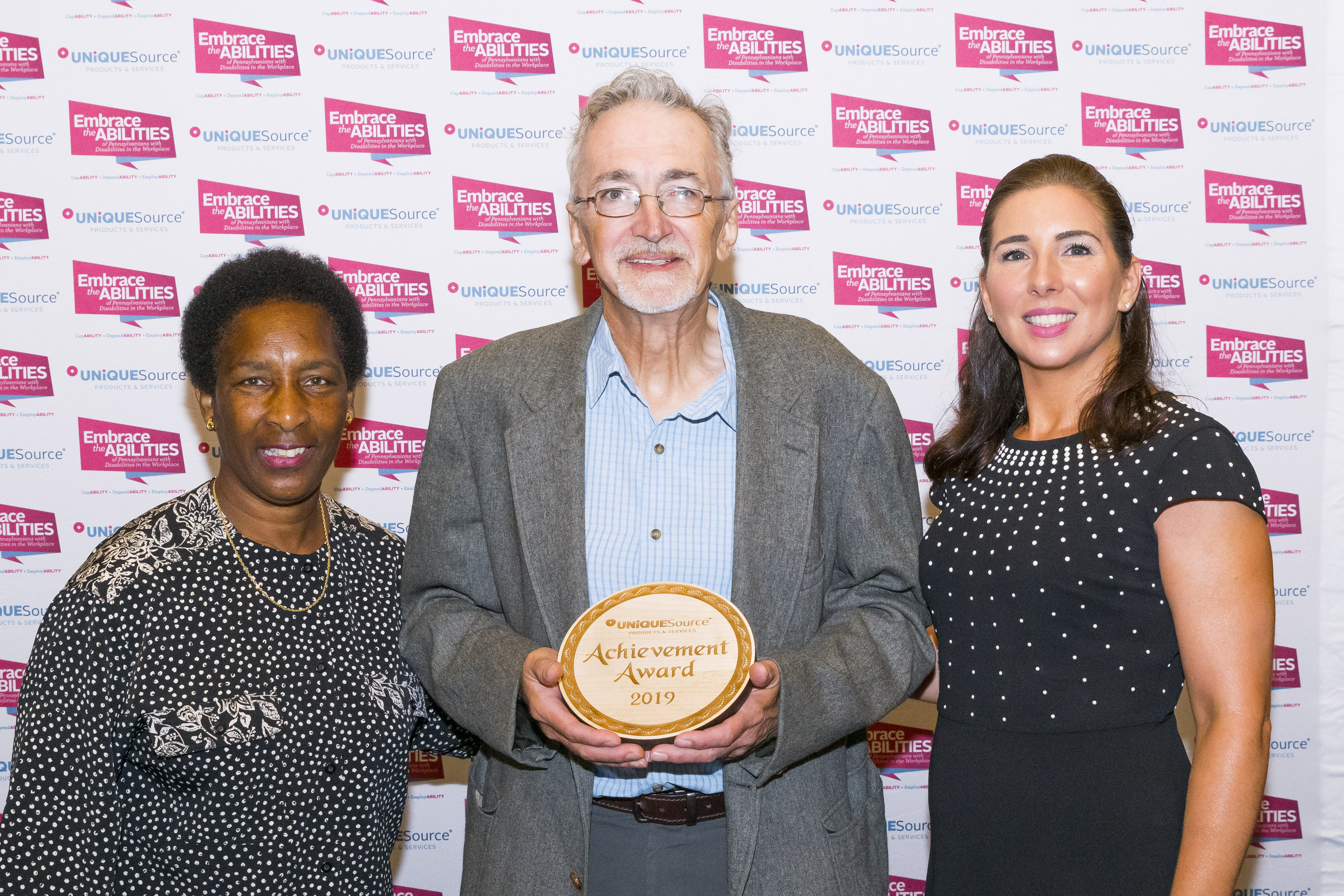 Photo Caption: Loretta Claiborne (left) and Lisa Biggica, EVP, Operations, UniqueSource Products & Services (right) congratulate Henry Heuer (center) on his 2019 UniqueSource Achievement Award. Copyright 2019 Fine Art Photo, Inc.
The UniqueSource Achievement Award was established in 1976 as the Nettie Mann Achievement Award to recognize outstanding workers from around the state who demonstrate exceptional character in living and coping with disabilities, particularly in the workplace.
Following the awards ceremony, which took place at the Hershey Lodge and Convention Center in Hershey, Pennsylvania, guests were treated to an inspiring keynote address from celebrated Special Olympian and York County native Loretta Claiborne.
Meet Award Winner Henry Heuer
Henry is a transplant from Oregon and military veteran. He's known for always being polite and friendly, and is an excellent employee. Even though he's no longer active military, his job through Quest has him working within various military sites located at Fort Indiantown Gap.
As a janitorial associate, Henry is responsible for a variety of tasks, but is a "go to" person for floor care.
"Being at the Gap makes me feel like part of the group again by working around the military," said Henry.
Loretta Claiborne, Keynote Speaker
Loretta Claiborne calls central Pennsylvania home, but her name and message of inclusion, acceptance and perseverance are known throughout the world. She was born partially blind and intellectually challenged in a poor, single-parent family. She is one of seven children and didn't walk or talk until the age of four.
Since 1970 she has proudly participated in Special Olympics – competing in more than 300 local and state Special Olympic events in Pennsylvania and six Special Olympics World Games, medaling in several different events. She also has participated in 26 marathons.
Claiborne holds a 4th degree black belt in karate, communicates in four languages, including American Sign Language, and holds two honorary doctorate degrees. She has been recognized by five former U.S. presidents and has been a guest speaker at the United Nations Summit – twice. In 1996 she was honored with ESPN's ESPY Arthur Ashe Award for Courage.
Her life story has inspired on the small screen and in the pages of her biography, but with all of the success and recognition, Claiborne says the most rewarding part of her life has been her involvement with Special Olympics, where she is currently a board member and the Chief Inspiration Officer. She wants to continue helping people with intellectual and physical disabilities succeed and advises them to "Find an opportunity and seize it. Be the best you can be and never let anyone doubt you."
About UniqueSource Products & Services
UniqueSource is a 501(c)(3) nonprofit supplier of products and services dedicated to creating employment opportunities for persons with disabilities. It accomplishes this by partnering with its Members – Pennsylvania nonprofit agencies who employ persons with disabilities – to market and deliver their products and services to customers in both the private and public sectors.
For more information, visit www.UniqueSource.com.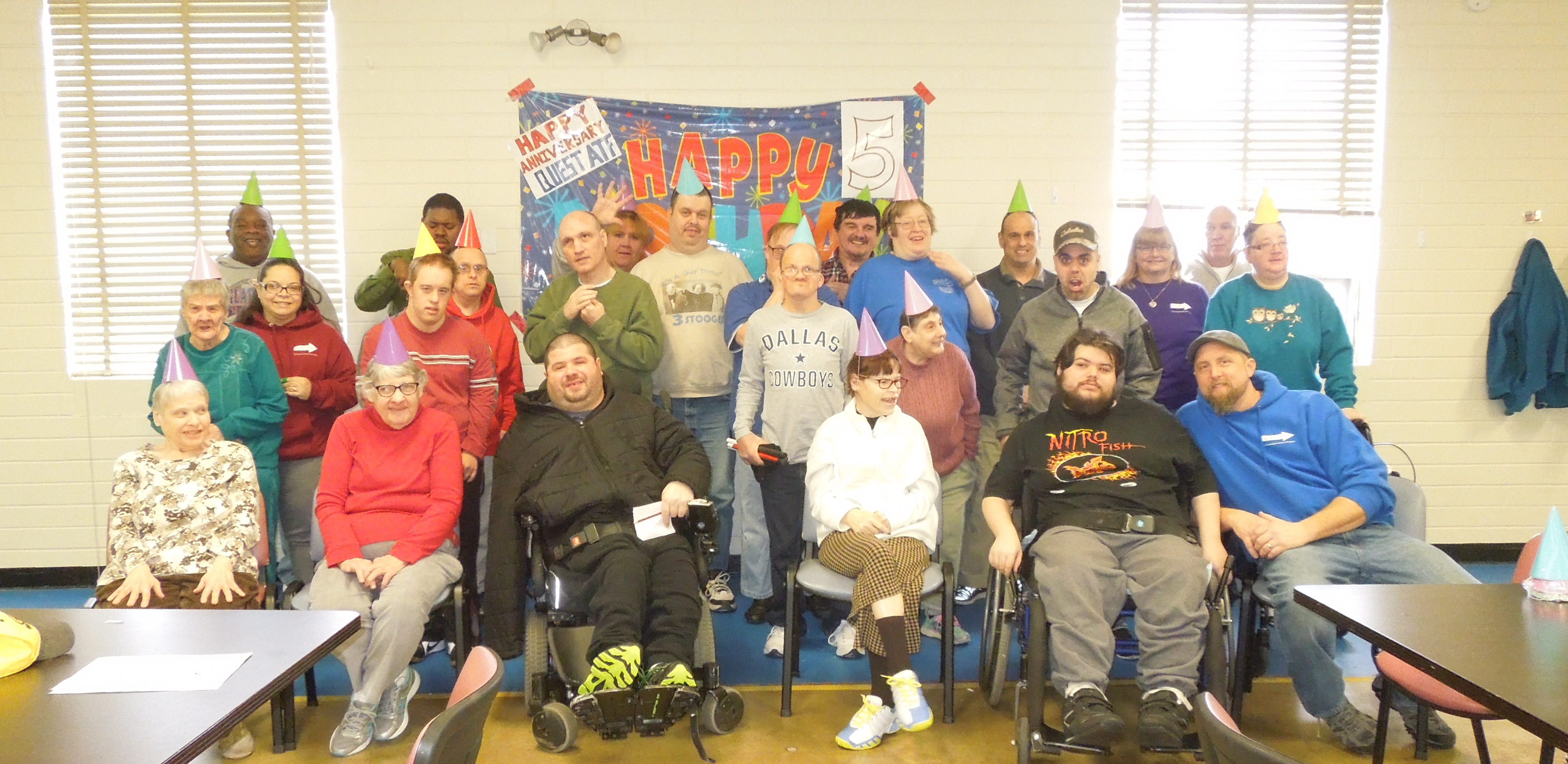 QUEST, Inc. Adult Training Program
The QUEST Inc. Adult Training Program Provides services to individuals diagnosed with development and intellectual disabilities. Our ATF program began operating in the spring of 2013 in order to meet the growing needs of individuals in our community. Our program focuses on the basis of everyday lives and self- determination while providing a safe, supportive and team based environment.
The ATF's newest initiative is community integration which includes community awareness, safety and social development. We work on increasing the individual's independence and their ability to build relationships within the community. This is in the hopes that these relationships may play a role in future employment goals and desires of the people we support.
We provide services to a wide range of functioning levels and will adapt the program to meet the needs of the individual. We will provide the services necessary in order to meet individual needs including but not limited to sensory concerns, motor skills, personal adjustment and social skills. The program promotes and places an emphasis on building relationships within the program and throughout the community.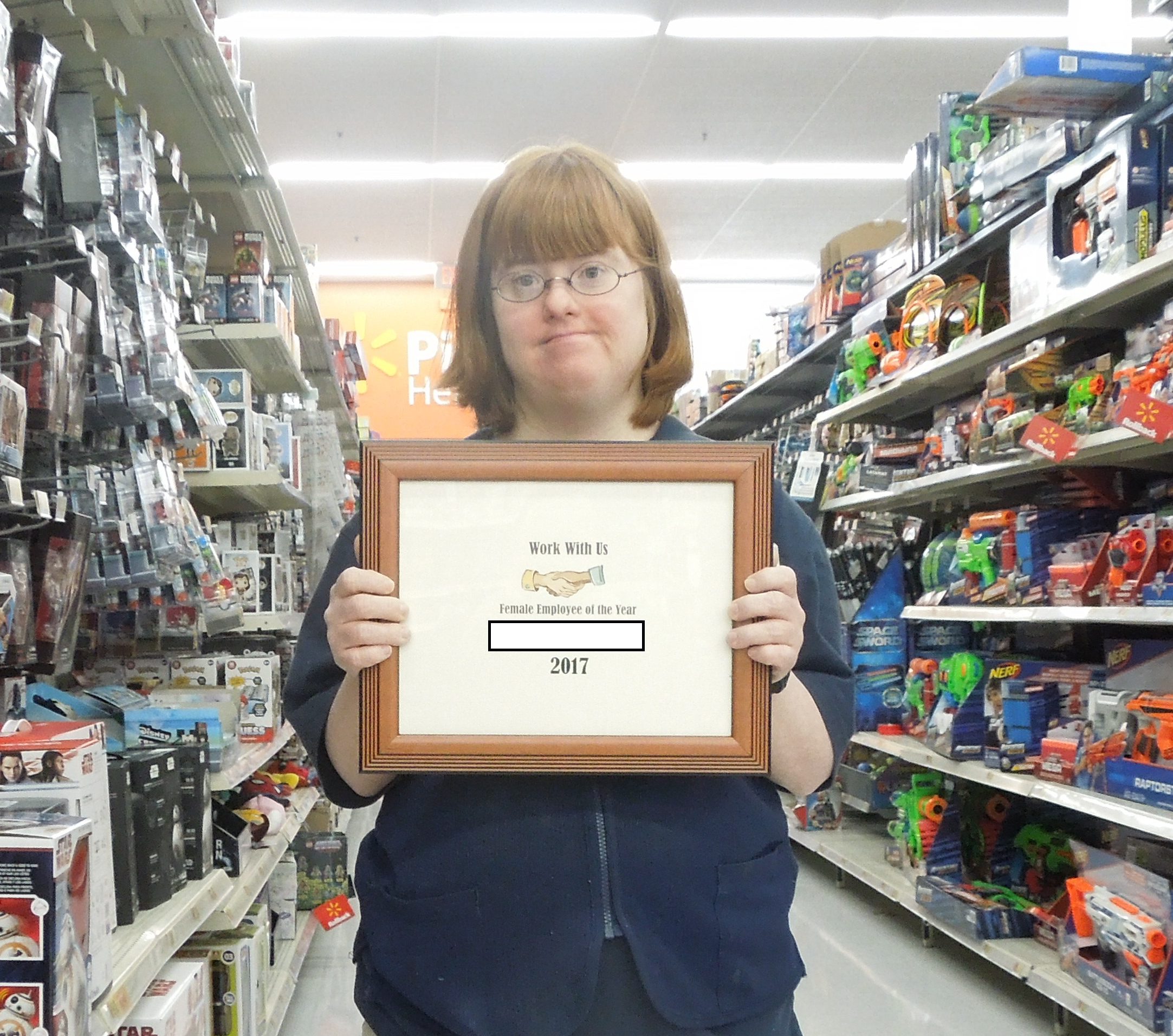 QUEST, Inc. Employment Services
QUEST Employment Services offers not only supports to people with disabilities but we are a service to the business community by working to fill the needs of employers. A full complement of services includes: Community Based Assessments,
Identification of Individual Strengths, Assistance finding the right job match or helping to create a job through Customized Employment, Assistance in completing applications and interviewing, On the job training and support, Support to maintain successful employment & Re-training as needed.
Benefits to the Employer include: A lower absenteeism and lateness rate, Dependable and reliable workers, Applicants who are pre-screened, On-site training and support by experienced employment specialists (ACRE Certified), Staff sensitivity training available to all companies & Services provided at no cost to the employer.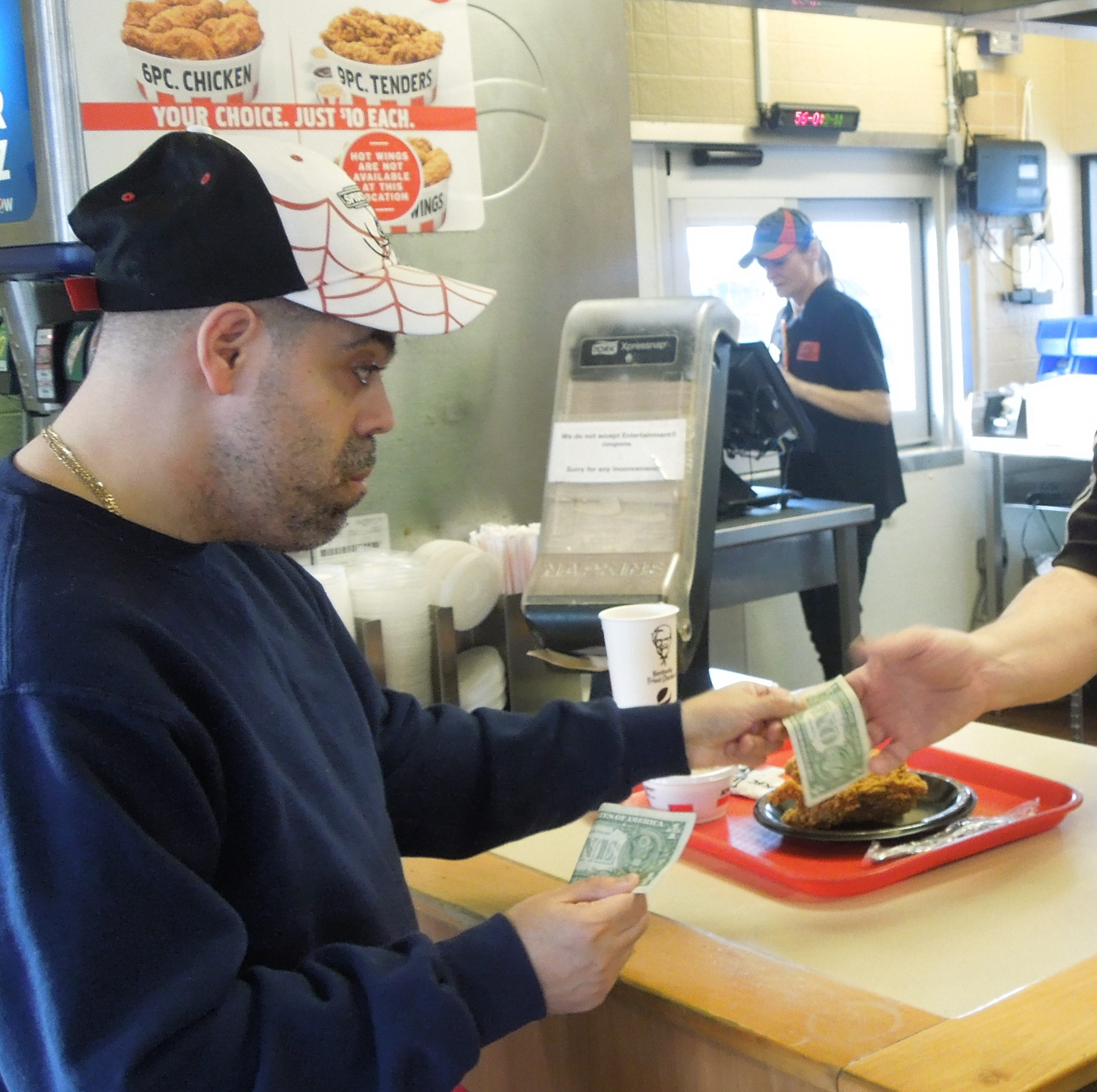 QUEST, Inc. Home and Community Habilitation Services
Assisting individuals to reside successfully in home and community based settings is provided by a one to one (face to face) by acquiring and maintaining and improving the following skills: Self-Help, Domestic Socialization and Adaptive skills.
QUEST, Inc. Home and Community habilitation supports people with many different goals and outcomes including: Volunteer positions, Learning How to Complete Household Chores Independently, Health and Wellness Goals, Socialization, Building and Maintaining Relationships, Participating in Community Activities, Traffic Safety and Transportation in the Community and Accessing Community Resources and Centers.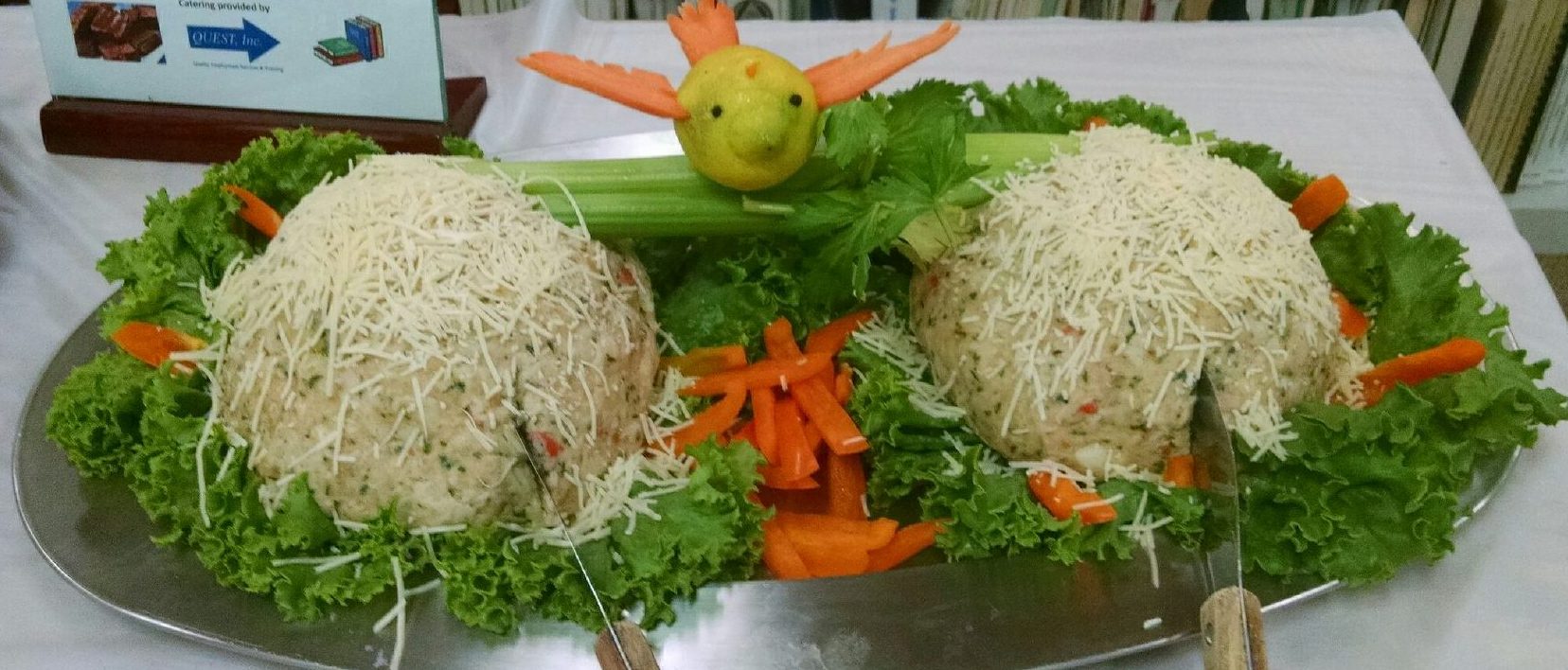 QUEST, Inc. Catering Services
We provide everything you need for your event!! Whether looking for breakfast packages to boxed lunches to appetizers and full multi-course meals or buffets including desserts we have you covered! If you don't find what you are looking for on our menu we can customize the menu to fit your needs. Please call for a quote and to check our availability for your event!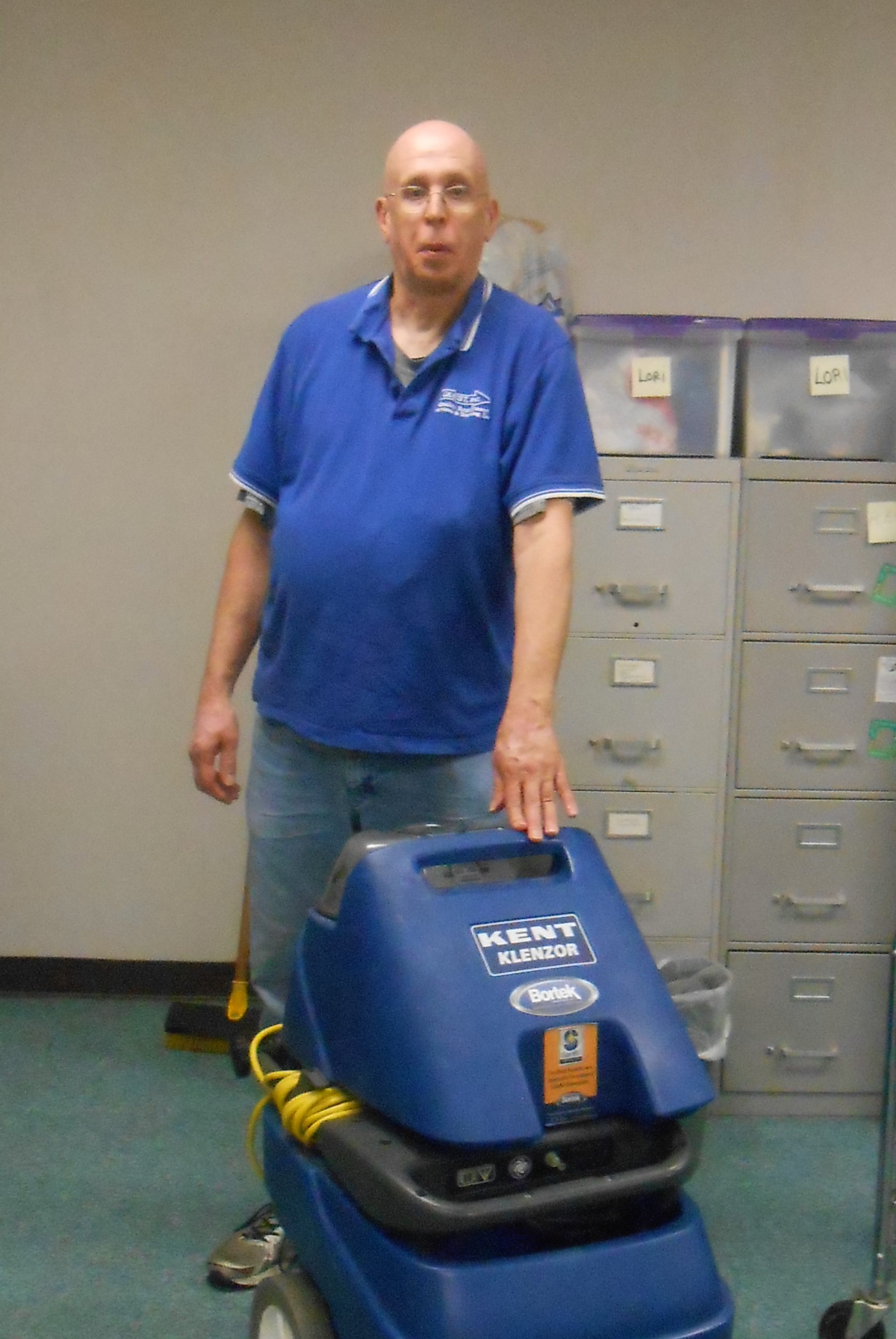 Janitorial
Private & Commercial. One time or Seasonal.
FREE Estimates.
Current contracts include Federal, State and Local Business customers.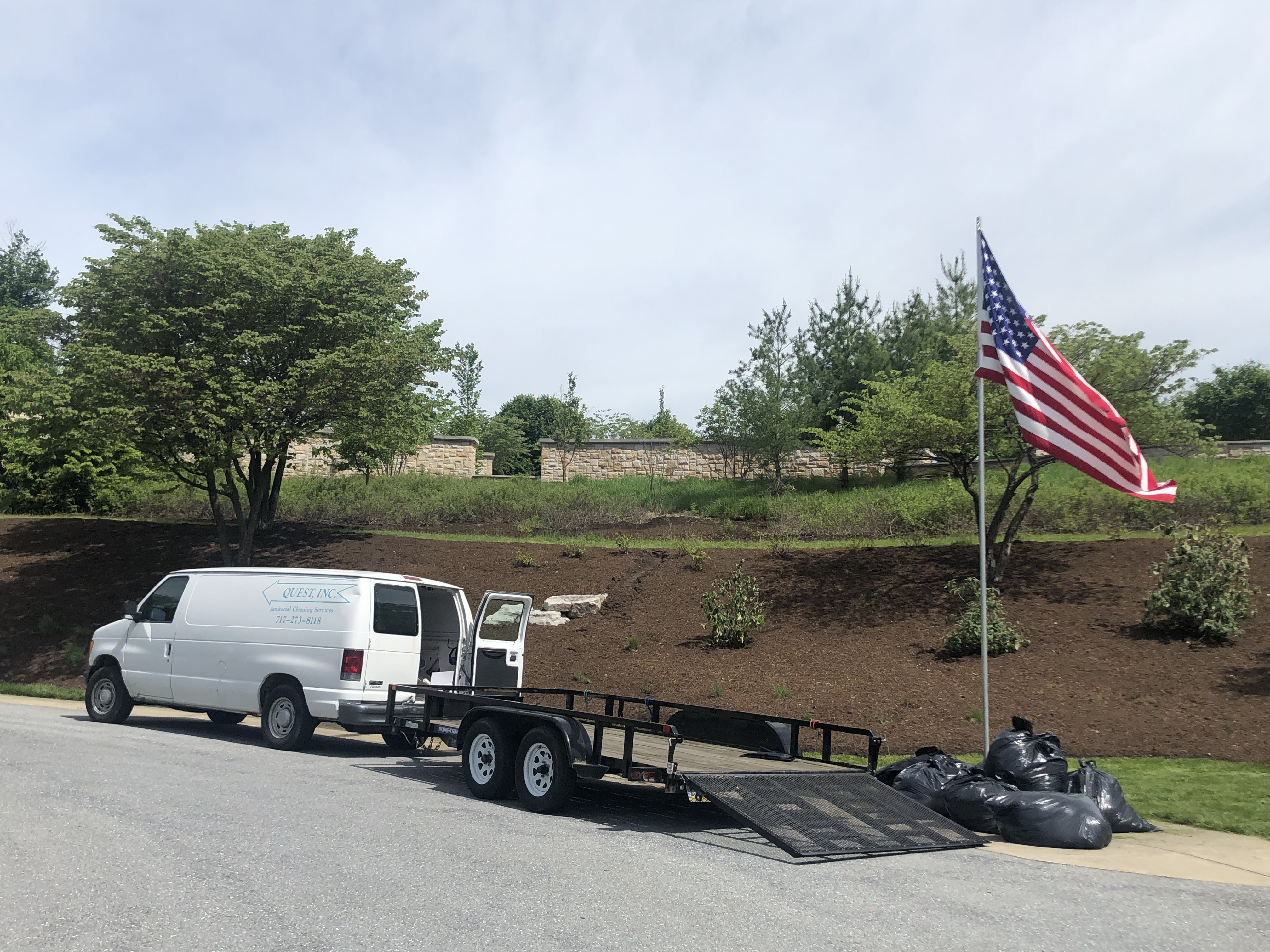 Lawn Care
FREE Estimates & Evaluations. One time or Seasonal.
Lawn Mowing & Sweeping, Raking & Edging, Shrub Trimming, Weeding & Mulching, Leaf Removal, Weather Cleanup, Planting, Fertilizing and Watering
Current Contracts include Federal, State & Local Business & Residential customers.