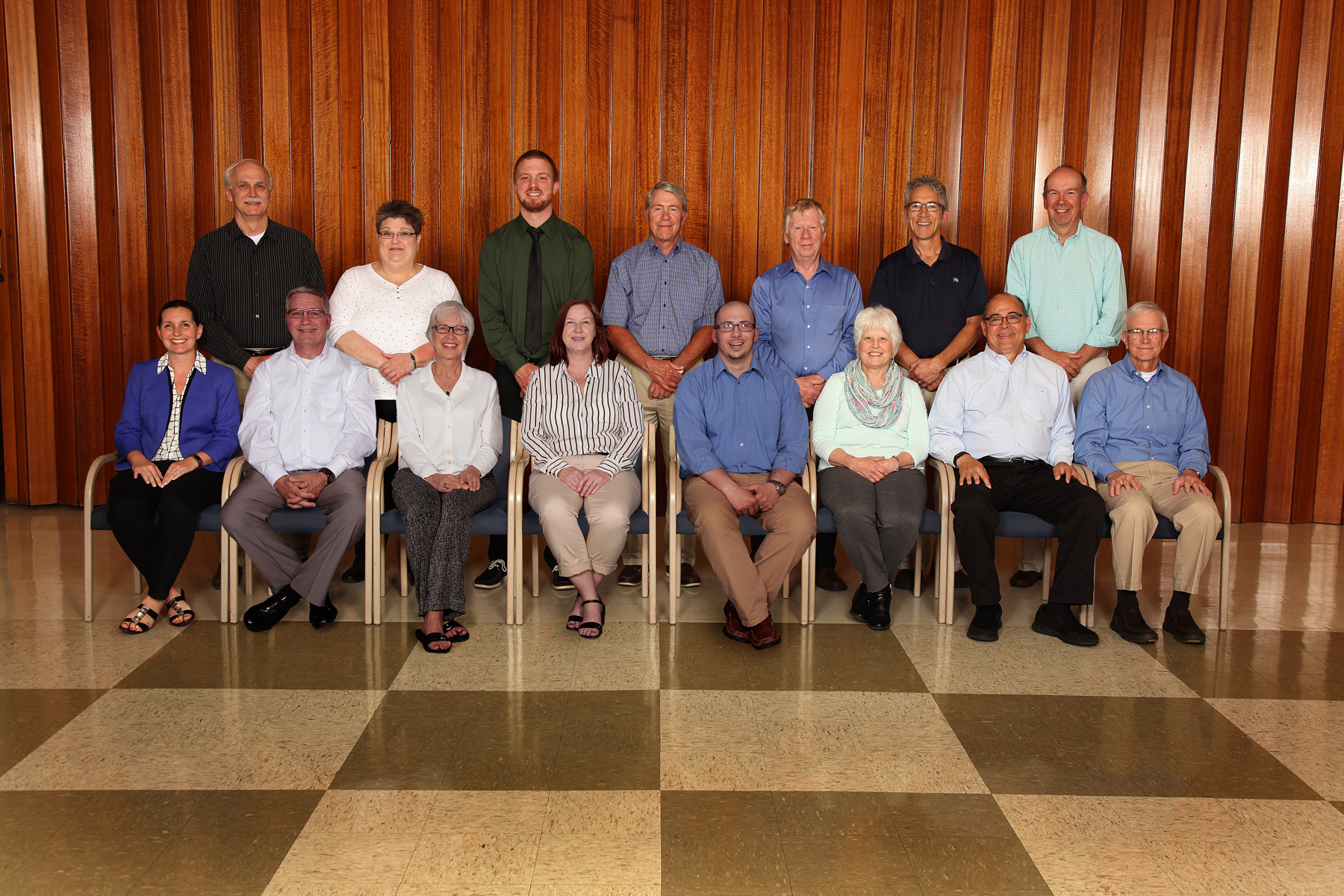 Seated from Left to Right:
Laurie Bowersox, Dr. Joe Kristobak, Carol Webber, Dr. Mary Rita Weller, Dan Figueroa, Penny Samuelson, Howard Lee, Bob Fortna
Standing from Left to Right:
Jerryl Miller, Dawn Shultz, Bradley Barninger, James Williams, Mark Dutchess, Jeff Edleman, Roger Sands
Jeff Edleman retired in 2013 as Senior Director, Business Development, on the Project Next Century initiative from The Hershey Company. He was responsible for the sale of real estate and idle assets, along with a variety of special projects, to effect improvements across Hershey's value chain. He was  responsible for Hershey's real estate sale and acquisition functions and has facilitated more than $1 billion in Hershey acquisitions and divestitures. Edleman holds a bachelor's degree in industrial engineering from Lehigh University and a master's degree in business administration from Shippensburg University. He has served on the board of QUEST for over 25 years.
Howard Lee retired from Highmark in April, 2013 after 31 years of varied experience in the Health Insurance Industry. Most recently he held the office of Vice President of Underwriting for Highmark's Health business enterprise wide, overseeing all underwriting activities for the Pittsburgh, Central Pennsylvania and West Virginia Markets. While at Highmark, Howard also served in various roles in the finance, budgets and accounting areas. Prior to his tenure with Highmark he held various Management Accounting positions in Banking (Commonwealth National Bank - 1978 to 1981) and in the Paper Manufacturing industry (Hudson Pulp & Paper Corp. - 1973 to 1978).
Dawn Shultz has completed two terms on the QUEST board and is continuing her third term.  She is currently serving as the Secretary of the board. Dawn has been employed by Boscov's Department Store since 1984 and has been in the position of Human Resources Manager since August of 1985. In addition, she taught at the Lebanon Campus of Harrisburg Area Community College in the Continuing Education division from 1990 to 2000. Dawn earned a BS in Business Administration from Shippensburg University and an MA in Human Resources and Labor Relations from Indiana University of PA.  She also participates in activities in her church including playing the hand bells in the senior bell choir, leading children's church and women's retreats as well as serving as the Secretary of the Consistory (the church's governing board).  Dawn and her husband, Kenneth, reside in the city of Lebanon.
Roger Sands and his family moved to Lebanon from Massachusetts in 1987 to take a position at the VA Medical Center. He retired from the Government in 2007 after a 31-year career. Later, he worked at Gretna Theatre where he was the Director of Development. He and his wife Stephanie live in South Lebanon Twp. and have a son Josh, in Lancaster, a daughter, Cate, in West Chester. and the two most beautiful granddaughters in the world, Emma and Pip.
Bradley Barninger Graduated from Pennsylvania State University with a BA in Psychology. Graduated from Liberty University with a MA in Professional Counseling. Over 10 years of experience working with individuals with disabilities. The experience includes direct care, social work, and mental health counseling. Currently serves as the Director of the Adult Day hospital/Intensive Outpatient Program of the Mt. Gretna campus with Philhaven. I currently reside in Annville, along with my wife (Hannah) and two children (Harper Rae and Elias).
Jerryl Miller Employed at WellSpan Philhaven since 2002 as the Level of Care Director for Family Based Mental Health Services.  Jerryl and his wife Elaine live in Adamstown, PA and enjoy spending time with their six grandchildren.  Jerryl has a BS degree in Horticulture from Iowa State University, an MA degree in Rehabilitation Counseling from the University of Cincinnati and an MBA degree from Lebanon Valley College.  Jerryl and his wife spent 12 years in Latin America prior to moving to Pennsylvania in 1994.  Jerryl enjoys gardening, reading, and spending time with family.
Jim Williams retired in 2012 after 42 years of working in the Bearing and Industrial Power Transmission industries. He has held numerous management positions in Supply Chain, Manufacturing and Product Management. A resident of Lebanon since 2003, Jim enjoys spending time with his wife Terry, playing golf, fly fishing and traveling. Jim has four children scattered along the eastern half of the country and a 6 month old grandson.
Bob Fortna received his Bachelors of Science in Industrial Engineering from Lehigh University. Working career all 33 years with Hershey Chocolate. Bob has held many engineering and manufacturing positions, including : Plant Manager, Manufacturing Director, and Manufacturing Vice President. Mr. Fortna has been married to his wife Sandra for 47 years. He has two children Ryan a physician and Nikki a school teacher. In addition to QUEST, Bob also serves on the boards of Philhaven and the Lebanon Valley Brethren Home. In his free time, Bob enjoys golf, gardening, travel, and spending quality time with his 4 grandchildren.
Laurie Bowersox is the executive director at HACC, Central Pennsylvania's Community College's Lebanon Campus.  Laurie joined the College in July 2014.  She began her career as a teacher in West York School District before taking an administrative position at Big Spring School District and most recently as elementary principal at ELCO Intermediate School.  In her community, Laurie member of the Leadership Lebanon Valley Board, a Lebanon Rotarian and a member of the Lebanon Chamber of Commerce Foundation Board.  Bowersox volunteers with Junior Achievement and United Way Day of Caring.  As a campus leader at HACC, Laurie is involved with community outreach, fundraising, academic support and student enrollment. While serving as a principal, Bowersox was named an ambassador to the Pennsylvania Elementary Principals Association.  In 2012, Bowersox was named Junior Achievement Educator of the Year.  She is co-author of a social studies textbook about Pennsylvania used in many fourth grade classrooms.  Laurie holds a bachelor of science in Elementary Education and masters in Educational Leadership from York College of Pennsylvania.  She is a graduate of the American Association for Women in Community College Leaders Institute (AAWCC). When not at work, Laurie enjoys spending time with her family, playing tennis and taking her dog for long walks.
Penny Samuelson is a practicing physical therapist with WellSpan Rehabilitation. She has been working in the field for over forty years in various aspects including administration and teaching but likes patient care the best. She is active in her church and her community. She and her husband of 39 years have enjoyed raising two children in this community. Her son lives locally while her daughter resides in San Francisco. She encourages lifelong learning starting with a bachelor's degree from  University of Pennsylvania, a Masters in Public Administration from The Pennsylvania State University and her Doctor of Science in Physical Therapy from Rocky Mountain University of Health Professions. She enjoys the companionship of her bulldog and honing her quilting skills.
Dr. Joe Kristobak is currently working PT as a Jury Attendant for the county court system. He retired in 2013 as Superintendent of the Cornwall-Lebanon School District. He enjoys spending time with his wife Barbara, and their 3 children Kelly, Alec and Ryan and their two grandchildren. Joe has been in education for 33 years, and has held various positions including: middle school teacher, high school assistant principal, elementary principal, and a director of elementary education. Joe currently lives in South Lebanon. Twp., and is involved in United Way, American Cancer Society, Relay For Life, Camp Shand, Lebanon County Community Action Partnership, CLSD Falcon Foundation, and SPRC at Good Shephard and of course QUEST.
Carol Webber has been with the accounting firm of Amerman, Ginder & Co., LLC since 2001 and worked in the field for 14 years prior to that in Colorado and in her home state of Michigan. Carol enjoys her financial and tax work, but also makes time to travel with her husband of 45 years, Len, and her grown children, Lauren Winters and Adam Webber and their six grandchildren. As a resident of North Cornwall Township, Carol feels privileged to serve on the Board of QUEST and hopes to assist in promoting improved quality of life for all persons involved in the programs at QUEST.
Dr. Mary Rita Weller, Ph.D., LSW Dr. Mary Rita Weller has served on the Board of Directors at QUEST, Inc. for the past several years in various positions. This year, Mary Rita is completing the remainder of her term as President of the Board of Directors. She will continue to provide guidance and support as the new president transitions. Mary Rita is an Assistant Professor at Kutztown University, PA in the Department of Social Work. By being a social worker, she assists students in learning about career and advocacy opportunities that support the quality of life for people with disabilities, as well as their families, friends, staff, and communities. Additionally, Mary Rita serves on the Board of Directors for Service, Access, and Management, Inc. as the chair of their Program Committee. For more than 20 years, Mary Rita oversaw community programs that supported individuals with intellectual disabilities. Her hobbies include gardening, traveling, swimming, and participating in group fitness classes. Serving on QUEST's Board of Directors continues to afford her the opportunity to support individuals with disabilities in the community and provide student with real life experiences in supporting vulnerable populations.
Mark Dutchess and his wife, Dorothy, have lived in the Lebanon Valley since 1977. They have two sons who graduated from the Cornwall-Lebanon school system. Mark and Dorothy have been active in the Lebanon Community including organizations such as the United Way, QUEST, Lebanon Valley Family YMCA, Cornwall Children's Center, Good Samaritan Hospital, Church of the Good Shepherd and CQM Athletics. Mark is an avid motorcycle enthusiast and is frequently leading rides with fellow Harley motorcycle riders to scenic vistas all around the country. Mark began his career at the former Buell/GE/Marsulex companies in Lebanon and recently returned to the area to work as a Senior Proposal Manager for Marsulex Environmental Technologies. Mark has served on the QUEST Board for over fifteen years.
Dan Figueroa has been teaching US Government, Economics, and Constitutional Law at Lebanon High School since the 2003-2004 school year.  Outside of the classroom, Dan has coached soccer on the youth, high school, and collegiate levels.  Currently Dan can most often be found getting into mischief with his wife (Kate), and three children (Tony, Cara, and Annie).